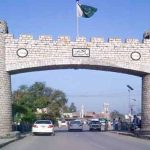 ISLAMABAD: Opposition Leader in the National Assembly Khursheed Shah while reacting to a meeting between the prime minister and chief justice of Pakistan Wednesday said that had the meeting been necessary, then it should have been held at a place, where it could not have come into public notice.
On Tuesday evening, a one-on-one meeting between PM Shahid Khaqan Abbasi and Chief Justice Saqib Nisar at the Supreme Court building took the media by surprise.
The opposition leader, however, said that meetings should be held with heads of the institutions, but there's a time for it. He also questioned as to who should act for resolution of issues, adding that the Asked about his response to the opposition leader's statement from a day earlier in which he said the meeting would fuel speculation, Pakistan Muslim League-Nawaz (PML-N) leader Captain (retd) Safdar said: "Are suspicions not raised when they themselves go to meet?
In his response, State Minister for Interior Tallal Chaudhry said the PML-N leadership and Nawaz Sharif were not aware of the meeting in advance.