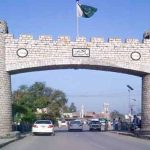 PESHAWAR: PPP leader Syed Khurshid Shah on Sunday said that opposition parties including the Pakistan Muslim League-Nawaz (PML-N) have no reservation over the name of Aitzaz Ahsan for the slot of president.
This was said by Pakistan People's Party (PPP) leader Khursheed Shah during his visit to Bilour House in Peshawar. Aitzaz Ahsan, Naveed Qamar and Qamar Zaman Kaira also accompanied Shah and condoled the death of Haroon Bilour.
PPP has refused to retract the name of its nominee for the presidential election after the PML-N expressed reservation on the name of Aitzaz Ahsan.
Chief of his own faction of the Jamiat Ulema-e-Islam, Maulana Fazlur Rehman Sunday contacted PML-N president Shehbaz Sharif and told him Asif Ali Zardari has refused to take back the name of Aitzaz Ahsan.
The PML-N, while suggesting the names of Yousuf Raza Gillani and Raza Rabbani, expressed reservation on Ahsan's nomination, saying the veteran PPP leader had a strong stance against the party.
The Pakistan Tehreek-e-Insaf (PTI) has already named Arif Alvi as its candidate for the post.
Earlier, an All Parties Conference (APC) of the grand opposition chaired by Shehbaz Sharif could not reach consensus to bring a joint candidate of the opposition for the elections of the president to be held on September 4.
The meeting, which was attended by the leaders of 11 opposition parties including PPP, JUI-F, Awami National Party (ANP) and Mutahida Majlis-e-Amal (MMA), continued for around four hours.