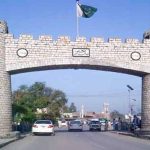 JAMRUD: People affected from militancy in Rajgal area of Tirah Valley in Khyber Agency blocked the Pak-Afghan Highway and staged a sit-in in favour of their demands at the Bab-e-Khyber in Jamrud on Monday.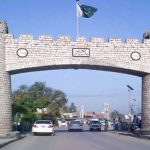 The protesting tribesmen kept the Pak-Afghan Highway blocked for two hours and chanted slogans against the Fata Disaster Management Authority (FDMA). Member National Assembly Al-Haaj Shah Jee Gul Afridi reached the spot and held negotiations with the protesters after which they agreed to end the sit-in.
However, the protesters warned that they will permanently block the highway and also stage sit-in in Islamabad if their demands were not accepted. They also asked MNA from NA-45 Nasir Khan Afridi to ensure his presence in the Jirga on the issue to be held in Jamrud tomorrow (Tuesday). They said they will also stage protest outside Nasir Khan Afridi's residence if he failed to ensure his presence in the Jirga.
Shah Jee Gul Afridi, who is MNA from Khyber Agency, said while addressing the protesters that the vote of affectees of Rajgal is in Bara, while their computerised national identity cards (CNICs) carry the address of NA-44. However, he said, he has hired a lawyer to tackle this issue. He said he will never allow the FDMA or any other institution to deprive the tribesmen from their rights. He said he will also join the protest of Rajgal people if they did not get financial assistance and ration like the affectees of other regions of Fata.