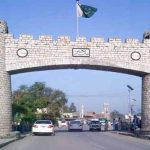 PESHAWAR: Minister for Information of Khyber Pakhtunkhwa Shaukat Yousafzai has announced that the correspondent of the Khyber News Gohar Wazir has been released from jail.
He was addressing press conference here on Wednesday. He said that Gohar Wazir was released today after confirmation that he was a journalist. However, he added that Gohar Wazir was also raising slogans during PTM rally.
Yousafzai said that the government was committed to compensating the residents of tribal areas who suffered immensely during the war against terrorism but that no one would be allowed to take the law into their own hands and undo security forces' gains against terrorism
Yousafzai said a "specific segment" desired that the armed forces vacate the tribal areas but that the troops are needed in the area to maintain peace that can support the government's rehabilitation efforts.
"I want to ask, if [some] local people have come out to protest, what purpose is PTM serving there? Or if some people have been arrested on suspicion of attacking the armed forces […] why are they [PTM] demanding their release?" the minister questioned.
In a reference to MNAs Ali Wazir and Mohsin Dawar, who the military's media wing said were behind the attack on the check post, Yousafzai said no member of the parliament has the right to show up at a check post "with a gun".