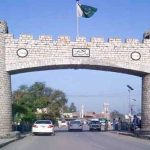 PESHAWAR: The Khyber Pakhtunkhwa Assembly in Peshawar passed budget for fiscal year 2020-2021.
The assembly approved all demands for grants amounting nine hundred and twenty-three billion rupees.
Responding to various cut-motions, Minister for law Sultan Muhammad Khan informed the house that government is working to improve the performance of all government departments.
Minister for Finance Taimur Saleem Jhagra said that mechanism is being devised for regular release of developmental funds for all the backwards areas of Khyber Pakhtunkhwa.
The house also unanimously passed a resolution making it mandatory to write 'Khatam-un-Nabiyeen' (Finality of the Holy Prophet) along with Prophet Muhammad's (S.A.W) name in official documents, books and wherever the holy name is used.