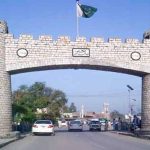 LANDI KOTAL: For the first time in history, the Khyber Pakhtunkhwa cabinet held meeting at Jirga Hall in Landi Kotal tehsil in Khyber tribal district here on Thursday.
Chief Minister Mahmood Khan chaired the cabinet meeting which was attended by all provincial ministers and advisors.
Speaking to the journalists, the Chief Minister said that the provincial government would fulfill the basic needs of education, health and employments of tribal people as per commitment. "Some people are spreading rumors and the people of tribal districts should ignore these rumors, the chief minister added.
He further said that the PTI-led provincial government held the KP cabinet meeting for the first time in history. He assured that the government must act upon on their promises which were announced to the people.
While addressing the cabinet meeting the CM Mahmood Khan said that the cabinet meetings will be held from Bajaur to Waziristan and the trend will continue.
Chief Minister Mahmood Khan said that some elements were propagating misunderstanding and stressed that one should not heed to those elements.
The CM assured that all the promises made by the PTI will be fulfilled.
According to establishment department establishment of session courts in tribal areas are included in the cabinet agenda besides that a policy regarding health department and suggested safety act regarding mineral department in the province will also be considered.