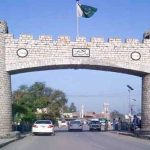 By Arshad Ali
PESHAWAR: The ruling Pakistan Tehreek-e-Insaf (PTI) has decided to reshuffle the Khyber Pakhtunkhwa cabinet to improve the working efficiency of the cabinet members.
According to party sources, in the first phase, some portfolios of the provincial ministers and advisors to the chief minister are likely to be changed. "In the second phase, if they don't deliver, they would be ousted from the cabinet and new people would be given the opportunity to serve," senior leader of PTI told Khyber News.
Prime Minister Imran Khan had already consulted close aides in the party regarding the performance of the cabinet ministers.
The media report quoted party sources that the prime minister has many tasks to do, but he is well aware of the people in his party and their activities in KP and Punjab governments. "He is the first prime minister who can be reached by senior and junior party activists," the party sources said.