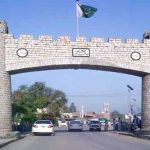 PESHAWAR: The death toll from COVID-19 in Khyber Pakhtunkhwa has mounted to 221 as 12 new deaths were reported on Friday.
According to KP Health Department, as many as 371 new cases were confirmed in the province during the last 24 hours, taking the tally to 4,327. The new cases include 12 from quarantine centre in Torkham and 65 others quarantined after arriving through international flights. Out of 12 new deaths, five have been reported in Peshawar, as many in Swat and one each in Swabi and Lower Dir.
A total of 1,033 patients have recovered in KP including 49 during the last 24 hours.
The death toll in Peshawar has mounted to 134, well over two-thirds of total deaths in the province. The metropolis has also reported 1,727 confirmed cases. Swat has reported 19 deaths and 313 infections and Mardan has reported 11 deaths and 216 infections. Both Swabi and Lower Dir have reported five deaths each so far with 46 and 123 infections, respectively.
Member of National Assembly from the Muttahida Majlis-e-Amal (MMA) Munir Khan Orakzai has recovered from coronavirus.
He has shared a message on the social media in which he confirmed that he has recovered from the virus. He thanked the well wishers for their prayers for him and other patients during the holy month of Ramazan.
Munir Orakzai had contracted coronavirus few days ago and his two brothers and two nephews had also contracted the virus.
Special Assistant to the Chief Minister on Local Government Kamran Bangash, who was also tested positive the same day when Munir Orakzai was diagnosed, has also recovered from the virus.
While thanking the well-wishers for their prayers, the special assistant said he will resume his duties immediately.
Death toll from COVID-19 in Pakistan has mounted to 622.
As many as 221 deaths have been reported in KP, 194 in Punjab, 176 in Sindh, 24 in Balochistan, three in Gilgit-Baltistan and four in Islamabad Capital Territory.
The total confirmed cases of COVID-19 in Pakistan have mounted to 26,806.
Of these, 9,691 have been reported in Sindh, 10,033 in Punjab, 4,327 in Khyber Pakhtunkhwa, 1,725 in Balochistan, 558 in Islamabad Capital Territory 394 in Gilgit-Baltistan, and 78 in Azad Jammu and Kashmir.
As many as 7,530 patients have recovered from the virus in Pakistan.