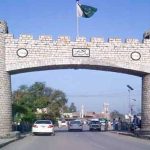 ISLAMABAD: Federal Minister for Railways Sheikh Rashid on Saturday clarified that their will be no shuffle of Chief Ministers of Punjab and Khyber Pakhtunkhwa.
'Everyone needs to hear this loud and clearly, this is the prime minister's decision,' he added.
During his media talk in Bani Gala, Sheikh Rashid stressed that PM Khan has taken important decisions to resolve the economic problems.
Talking on the issue of Asad Umar, Sheikh Rashid expressed his resolve to bring him back to the federal cabinet.
'I will try to meet with Umar either with the premier before going to China or afterwards by myself and request him to stay a part of the federal cabinet,' he added.
Federal minister further explained, only one minister was removed from the federal cabinet because of the surge in medicine prices and Asad Umar tendered his resignation himself.
He hoped that one of these days soon Asad Umar will be back with us.