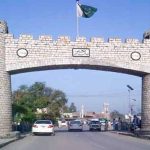 TANK: The kidnapped Assistant Commissioner of Federal Board of Revenue (FBR) Riaz Miyani has been released from the custody of militants three months after his kidnapping in April this year from Tank district of Khyber Pakhtunkhwa.
Riaz Miayani was kidnapped by unidentified gunmen from Murtaza village of district Tank.
Brother of Riaz Miayani, Ejaz Miayani confirmed to Khyber News that his brother has been released from militants' clutches. He added that Riaz Miayani is currently with district officers of South Waziristan.
The FBR official's brother further added that the South Waziristan local administration, Army officials and intelligence agencies have played crucial role in Riaz Miayani's release.
However, government officials are yet to confirm the release.
It is pertinent to be mentioned here that on April 24, 2019 some unidentified militants have kidnapped the Assistant Commissioner FBR Riaz Miayani from a hujra in Murtaza village of Tank district.