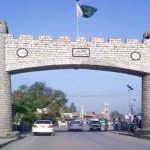 ISLAMABAD: The Islamabad High Court (IHC) on Tuesday was informed that name of the US diplomat Colonel Joseph Emmanuel – who crushed to death a Pakistani Ateeq Mir in Islamabad – had been placed on black list.
IHC was hearing a petition filed the deceased father against the incident which happened in 7th Avenue when a land cruiser of the US diplomats run a red light and hit a motorcycle subsequently killing Ateeq Mir on the spot and injuring Raheel Ahmed.
During the proceedings, Deputy Attorney General Raja Khalid Mehmood informed the court that the interior ministry had placed the US official's name in the "black list".
He said that name of Colonel Joseph was not added to the Exit Control List (ECL) for it was a lengthy process.
Mehmood added that the black list served the same purpose but is a simpler process where the Secretary of Interior is competent authority to take the decisive step.
The attorney general further said that the diplomat; however, could not be arrested or tried in a court for he holds immunity in accordance with the Vienna Convention.
Upon this, the court ordered the foreign ministry to submit its reply in this connection.