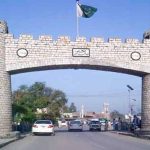 KOHAT: The district police busted six facilitators of network of extortionists during search and strike operation conducted against anti-social elements here on Tuesday.
During the drive, the police also rounded dozens of suspects including proclaimed offenders and seized automatic arms and drugs from their possession.
On tip-off, the police department says that operation was conducted on the directives of District Police Officer DPO) Sohail Khalid at various localities at Bannu-Rawalpind road.
During the operation, the police arrested 46 suspects and two proclaimed offenders and recovered one Kalashnikov, two repeaters, ten pistols, two guns, three Kilogramms hashish and hundreds of rounds of different bores.
The police also arrested six suspects alleged involving in facilitating a gang of extortionists and launched further investigations into the matter.