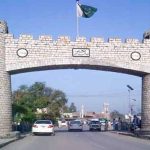 KOHAT: A case has also been registered against the two suspects in Township police station of Kohat under Section 324 and 302 of Pakistan Penal Code.
A medical student was allgedly shot dead by Mujahidullah Afridi, nephew of the district president of Pakistan Tehreek-e-Insaf (PTI) Aftab Alam, over marriage refusal in Kohat.
It has been revealed that the prime suspect is the nephew of Pakistan Tehreek-i-Insaf (PTI) Kohat wing president Aftab Alam.Raids are underway to nab the culprits.
Mujahidullah Afridi and his brother Sadiqullah opened fire on the girl, Asma Rani, when she was getting off a rickshaw in front of her house. The suspects immediately escaped from the scene after killing the girl who was a third year student of Abbotabad College.
Asma received three bullets and was rushed to the hospital where she succumbed to her injuries. She had came home to meet her family in Kohat during session break.
The body of the deceased has been sent to her native town Laki Marwat.
The victim's brother says that Mujahidullah wanted to marry his sister but the family refused as he was already married. The suspect's family says that he has escaped to Dubai however; police has yet not confirmed the statement.