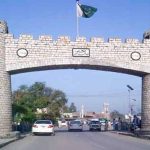 PESHAWAR— The Khyber Pakhtunkhwa government has allocated Rs 3.5 billion-2.62 percent of the total budget- to women's economic empowerment programmes in the fiscal budget 2022-23.
The allocation will be spent on setting up skilled development centres in merged districts for females while vocational centers would be established in Swat, Abbottabad and DI Khan.
Finance Minister Taimur Salim Jhagra while presenting the budget said that that Rs 2.4 billion had been allocated for women share in SMEs, Bank of Khyber, SAAF and RAAST financing schemes.
He said that Rs 54 million had been allocated for providing indoor game facilities to women at all divisional headquarters, besides Rs 340 million allocated for women universities.
Jhagra said that the current budget for women welfare was Rs 100 million, adding that Rs 50.5 million had been allocated for women vocational centres and Rs 50 million for women protection.