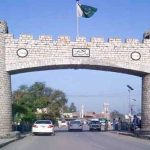 PESHAWAR: The Khyber Pakhtunkhwa Assembly on Monday unanimously adopted a resolution urging the Federal Government to resolve the problems of Pakistanis in Saudi Arabia and take steps for the release of arrested Pakistanis.
Speaker Asad Qaisar chaired the assembly session.
The resolution was tabled by Pakistan Peoples Party (PPP) MPA Sahibzada Sanaullah. The resolution urged federal government to take steps for the early release of arrested Pakistanis in Saudi Arabia.
Speaking at the floor of KP Assembly, Law Minister Imtiaz Shahid Qureshi paid rich tributes to KP police and army for quick response to Agriculture Directorate attack and neutralized all the terrorists. He termed the attack as a brutal act of terrorism and condemnable. He urged all the political parties to set together and devise comprehensive strategy to eradicate menace of terrorism.
Meanwhile, MPA Begum Meraj Hamayun urged the assembly to take notice of the girl stripping and parading incident in DI Khan.
The assembly session was subsequently adjourned till December 6.