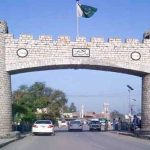 PESHAWAR: The Khyber Pakhtunkhwa Assembly session on Tuesday approved Khyber Pakhtunkhwa Ehtesab Commission (KPEC) Act amidst strong protests from the opposition benches, reported Dunya News on Tuesday.
As per details, when the KPEC Act was presented in the provincial assembly for approval, however the opposition members wanted time to consider amendments in the act to which they weren't granted.
Moreover, the session turned chaotic over a resolution being presented by Pakistan Tehreek-e-Insaf member Ali Haider in the assembly and which demanded the resignation of the PM.
The PTI s resolution was accepted amidst rukus in the assembly session.
During the session, the opposition and government members chanted slogans against each other.