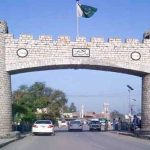 ISLAMABAD: The lawmakers in Khyber Pakhtunkhwa (KP) on Friday expressed their grief and sorrow over loss of lives in crash of PIA Plane at Havelian on December 7.
The KP assembly session was chaired by the Deputy Speaker. Twelve lawmakers including three of PTI, three of PML-N, two of JUI-F, ANP, JI, PPPP and QWP one each expressed their views about this tragic incident and demanded fair inquiry into the matter.
The House adopted three resolutions urging the government to form Minority Caucus in the Provincial Assembly, make public the financial deficit and list of political inductees in PIA and conduct high-level inquiry into the incident of plane crash at Havelian.
The Annual Report of the Provincial Ombudsman KP for the year 2015 was presented in the House.
The House took up a Calling Attention Notice regarding dispute between Forest Department and owners of the Forest in Malakand Division.
The House deferred the Question Hour and held discussion on incident of plane crash.
The House referred a Privilege Motion submitted by a JUI-F lawmaker to the relevant standing committee.