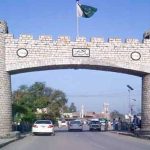 ISLAMABAD: Governor Khyber Pakhtunkhwa Haji Ghulam Ali has announced that elections or the provincial assembly would be held on May 28.
He was talking to media here on Tuesday after a meeting with President Dr Arif Alvi at the Aiwan-i-Sadr. He said he had fulfilled his constitutional obligation despite the fact that people of merged districts were protesting against the worsening law and order situation in the area. He hoped that the elections would be held in a peaceful environment.
The governor said he had tried his best to bring all stakeholders to the negotiation table and evolve a consensus on the general election date . "I think, I would have to meet the president soon, again," he continued.
He said that the Election Commission has been informed about the security situation in the province. A journalist asked whether the situation in Khyber Pakhtunkhwa is conducive? To this, the governor replied that the situation is before everyone. Attacks have been made on census teams. "Imagine, if terrorists do not spare census teams, how will the election campaign proceed?, he said.
According to a press release issued by the President's Secretariat, Mr Ali called on President Alvi at the Aiwan-i-Sadr and discussed matters related to holding of general elections.
"The president advised the KP governor to implement the Supreme Court's order in letter and spirit wherein it had been directed that the governor, after consultation with the Election Commission of Pakistan, forthwith announce a date for the general election to the provincial assembly to avoid any complication as almost a period of two weeks had already passed," the press release continued.
"The president stressed the need for upholding the Constitution and holding general elections within the stipulated time, which had been mandated by the Constitution, further affirmed by the Supreme Court of Pakistan, and was essential for strengthening parliamentary democracy in the country," the press release added.