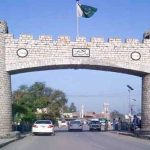 PESHAWAR: The Khyber Pakhtunkhwa Assembly here on Wednesday passed budget for fiscal year 2018-19.
The Assembly approved all demands for grants amounting seven hundred and forty billion rupees.
Responding to various cut-motions, leader of the house Mehmood Khan said his government is giving priority to develop backward areas of the province.
He said mega projects will be initiated in every district in next fiscal year.
Mahmood Khan said promotion of higher education will be encouraged.
He said Federal Investigation Agency and Intelligence Bureau are investigating into leakage of test for admission in medical colleges by Educational Evaluation Agency. He said Education Testing and Evaluation Agency will be strengthened.
Mehmood Khan said the government welcomes positive criticism of opposition and their reservations will be redressed.
The house also passed finance bill 2018-19 to revise ratio of some taxes.
The house will now meet again tomorrow at 11:00 am.