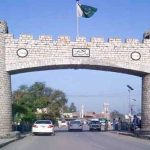 PESHAWAR: The Khyber Pakhtunkhwa Assembly on Tuesday passed the KP Boilers and Pressure Vessels Bill, 2016.
The KP Assembly session was presided over by the Deputy Speaker, as the Speaker was not present.
Reports of Special Committees on the closure of business activities in University Town, Peshawar as well as Health Department were presented in the House.
The Khyber Pakhtunkhwa Assembly could not take up all eight questions on the agenda due to absence of the movers.
The Speaker, Chief Minister and Leader of the Opposition were not present.
The House took up a Calling Attention Notice to suspend Insaaf Food Security Program.
The House did not take up any question during Question Hour due to absence of the movers, leaving all eight Starred Questions lapsed. The questions were related to the departments of Environment, Revenue & Estate, Law and Parliamentary Affairs, Industries, Commerce & Technical Education and Excise & Taxation.