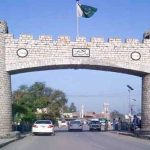 PESHAWAR: The Khyber Pakhtunkhwa Assembly on Tuesday passed a resolution calling for the resignation of Prime Minister Nawaz Sharif amid opposition members' protest and ruckus in the house.
The Khyber Pakhtunkhwa Assembly session was chaired by speaker Asad Qaisar. The Assembly session turned chaotic as government and opposition benches protested over a number of issues including Prime Minister Nawaz Sharif's resignation.
During the Assembly proceeding, Pakistan Tehrik-e-Insaf (PTI) MPA Ali Haider tabled a resolution against Prime Minister Nawaz Sharif and demanded the resignation of the PM Nawaz following Supreme Court verdict in Panama Leaks case.
When the resolution was tabled, opposition lawmakers started protest and chanted slogans. The house witnessed ruckus when the opposition lawmakers opposed the resolution.
However, the treasury benches managed to pass the resolution amid protest and ruckus in the house.
Meanwhile, the opposition benches protested over Khyber Pakhtunkhwa Ehtesab Commission (KPEC) Act. The KPEC Act was presented to the Assembly for approval, although opposition members wanted time to mull over the amendments in the act, which they weren't granted.
The opposition members also presented a resolution for the resignation of Chief Minister KP Pervaiz Khattak and Speaker KP Assembly Asad Qaiser.
The opposition and government members chanted slogans against each other. The government and opposition members also brandished sticks at each other.