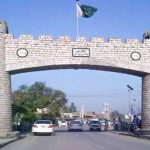 PESHAWAR: The Khyber Pakhtunkhwa Assembly would elect the new leader of the house today (Thursday). This was announced by newly elected KP Assembly Speaker Mushtaq Ghani during the assembly session.
Speaker Mushtaq Ghani after taking oath of his office before adjourning the session till Thursday 11am announced scheduled the election of Chief Minister.
Voting to elect new chief minister of Khyber Pakhtunkhwa will take place today at 11am.
The PTI has nominated Mehmood Khan as their candidate for the slot of chief minister whereas the opposition parties have announced Mian Nisar Gul as their candidate.
Earlier on Wednesday, Khyber Pakhtunkhwa (KP) Assembly on Wednesday commenced its session to elect speaker and deputy speaker for next five years. The MPAs confidentially voted their favorite candidate during the session.
Pakistan Tehreek-Insaf's (PTI) Mushtaq Ghani has been elected as speaker KP Assembly. Mushtaq received 81 votes and declared victorious against opposition's Laiq Mohammad who secured 27 votes. 108 out of 112 members of provincial assembly exercised their voting right.
On the other hand, PTI leader Mahmood Jan has become deputy speaker by clinching 78 votes while opposition's Jamshed Mohammad obtained 30 votes.