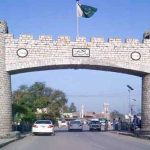 ---
PESHAWAR: The Khyber-Pakhtunkhwa Elementary and Secondary Education Department has banned the entry of teachers and other staff into schools and offices without Covid-19 vaccination certificate.
The heads of the schools and offices have strictly been directed to follow these directive and do not allow unvaccinated staff and teachers. They have been warned that in the event of any violation, action would be taken against the school and office heads.
In a notification the department noted that despite clear-cut orders for teachers and staff to get themselves vaccinated as soon as possible, most of the teachers and clerks were not interested in vaccination and there is a risk of the spread of Covid-19 through these unvaccinated persons, especially teachers.
An official on the condition of anonymity told the media that teachers and other school staff have been once again directed to get themselves vaccinated as soon as possible otherwise they are not allowed in the school and offices.
"It was decided that all the staff of the education department will be vaccinated and once they are vaccinated all the schools will be opened but now it has been discovered that majority of the teachers and staffers have not received even their first dose of the vaccine which means that they are not willing to vaccinate.
Furthermore, unvaccinated staff will not be allowed entry and they will be marked absent from duty and will not be paid their salaries.