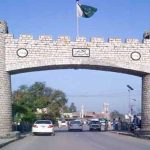 PESHAWAR: All Parties Conference (APC) called by provincial government of Khyber Pakhtunkhaw has decided to form a judicial commission to investigate alleged elections fraud during recently held local bodies elections.
The APC attended by government coalition partners and opposition Qaumi Wattan Party has decided to formulate judicial commission in order to investigate LG elections' rigging allegations.
It was decided in meeting that provincial government will write a letter to Peshawar High Court to form a judicial commission for investigation of elections rigging.
The APC was chaired by Chief Minister Pervez Khattak.
A committee in the chair of chief secretary is also formed to investigate irregularities and rigging allegations.
The candidates and citizen were asked to submit their elections' fraud proofs with the committee.
The tripartite alliance of opposition parties plus Pakistan Muslim League-Nawaz didn't attend the APC and insisted that it would go ahead with its shutter down strike plan from Wednesday till the resignation of provincial government.
Another coordination committee was also formed to contact with opposition parties in order to take them in confidence over APC decision.
The members included senior minister Sharam Khan Takraki, Minister for Local Government and Rural Development Anayat Ullah Khan and Minister Shah Farman.