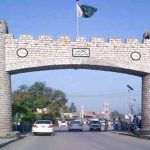 PESHAWAR: The opposition leader in Khyber Pakhtunkhwa Assembly Akram Khan Durrani Thursday started consultation with other opposition parties over nomination of caretaker setup in the province.
A consultative meeting of the opposition parties was held in Peshawar, which was attended by opposition leader Akram Khan Durrani, Nigaht Orakzai of PPP, Sardar Hussain Babak of ANP and Sardar Mohammad Yousaf of the PML-N.
The opposition leader took the PDM leaders into confidence over the names for caretake chief minister. Durrani said that the consultation process will continue, adding that the names for caretaker chief minister will be finalized in tomorrow's meeting.
Meanwhile,  the JUI-F chief Maulana Fazlur Rehman visited the residence of ANP leader Haji Gulam Bilour and discussed the current political situation and caretaker set-up with him. Governor Haji Ghulam Ali and Akram Khan Durrani were also present on this occasion.  The ANP suggested the Zafarullah Khan's name for caretaker chief minister.