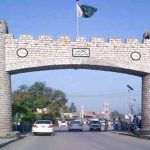 PESHAWAR: The Khyber Pakhtunkhwa opposition leader Akram Khan Durrani on Wednesday said that he considers sitting alongside Chief Minister Mahmood Khan for the appointment of the caretaker chief executive his insult.
Talking to Khyber News exclusively, Akram Khan Durrani said that he received a letter from the Governor Ghulam Ali today at 10 am for a meeting to discuss interim chief minister.
He said that there is a constitutional compulsion, otherwise he considers an insult to sit with Mahmood Khan.
Due to the constitutional requirement, he will sit with Chief Minister Mehmood Khan.
In addition to consulting with party leadership, Akram Khan Durrani said he will consult  with other parties in the joint opposition for the appointment of caretake chief minister.
He rejected reports of an agreement with the PTI leader and former Defence Minister Parvez Khattak on the appointment of interim chief minister.
He also criticized the PTI provincial government and said that it has bankrupted the province.
Former chief minister said that the KP assembly was dissolved on time to ensure that the government did not commit any errors. He said that the Punjab Assembly was not dissolved in time, causing significant damage.
Earlier today, Governor Haji Ghulam Ali had dissolved the Khyber Pakhtunkhwa Assembly on the advise of Chief Minister Mahmood Khan.