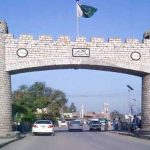 GHALANAI: Adviser to the Chief Minister Khyber Pakhtunkhwa on Tribal Districts Ajmal Khan Wazir says one hundred billion rupees will be spent on the development of tribal areas under NFC Award each year.
Talking to newsmen at Ghalanai in Mohmand district on Monday, he said this programme will continue for ten years.
Ajmal Wazir said a meeting of the Khyber Pakhtunkhwa cabinet is being held in Mohmand today.
The Chief Minister will inaugurate Insaf Rozgar Scheme to provide jobs to tribal youth. He will also inaugurate Sehat Insaf Card Scheme.