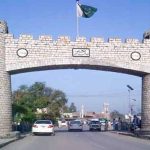 PESHAWAR: The doctors in Khyber Pakhtunkhwa have demanded resignation of the provincial health minister and Dr Nousherwan Burki as they went on strike across the province in protest against torture of an associate professor at Khyber Teaching Hospital by provincial minister and his guard.
The doctors boycotted the outpatient departments (OPD) at all government hospitals across the province in protest against torture of Dr Ziauddin by provincial health minister Hisham Inamullah Khan and his gaurds.
According to the KP Doctors Council, their primary demand is to register a first information report (FIR) against KP Health Minister Hisham Inamullah Khan for allegedly torturing Dr Ziauddin at the Khyber Teaching Hospital.
They said that they would continue their protest and strike till resignation of Dr Hisham Khan and Dr Burki.
The KP health minister, on the other hand, claimed that Nausherwan Burki, the cousin of Prime Minister Imran Khan, was egged by Dr Ziauddin. When he reached the hospital, he, too, was attacked, he asserted, adding that he was saved by his bodyguards.