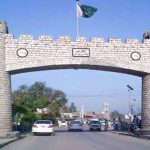 PESHAWAR: Peshawar Zalmi Foundation and Khyber Pakhtunkhwa Education Department signed MoU to hold Zalmi Super League that will start from December 26, next year.
The League will start from 26th December and is dedicated to the martyrs of Army Public School. Peshawar Zalmi Foundation announced its Zalmi School League project for the promotion of cricket at Grass Root and School Level.
It will include different cities in KP. The MOU signing ceremony was held in Peshawar. Mr Khalid Afridi (Director Peshawar Zalmi and Haier Pakistan) and Mr. Muhammad Akram (Director Cricket Operations Peshawar Zalmi) represented Peshawar Zalmi while Mr. Atif Khan (Minister Elementary and Secondary Education) and Mr. Khalid Khan (Sec Elementary and Secondary Education) also graced the occasion.
Zalmi Foundation Chairman Mr. Javed Afridi, in a recorded message emphasized that his franchise Peshawar Zalmai and Zalmi Foundation will play an engaging role in the promotion of cricket at Grass Route Level in KP. The much awaited Zalmi Haier 100 Pitches project was also announced on the occasion. In this project 100 pitches will be created all across the KPK province.
This 100 wickets project, along with the Zalmi School League will provide excellent opportunity for youngsters to showcase and sharpen their cricketing skills. Mr. Javaid Afridi specially thanked the KP government, Mr. Imran Khan and Chief Minister Pervez Khattak for their support and cooperation in organizing the Zalmi School League.
Mr. Afridi attributed the League to the martyrs of Army Public School. Minister Atif Khan praised efforts of Mr. Afridi and Peshawar Zalmi for promoting cricket at the grass root level. The first phase of the Zalmi School League will be held from 26th to 28th December in Haripur while the final will be played in Peshawar on 29th December. Two teams each from Peshawar, Bannu, Malakand and Hazara Region will participate in the league.
The second phase of the League will be held before PSL.