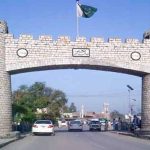 PESHAWAR— The Khyber Pakhtunkhwa Forest Department has, in its report, claimed that KP forests fires that erupted some days back in parts of the province were deliberately set on fire.
The report said that more than 210 forest fires in Khyber Pakhtunkhwa have damaged 14,430 acres, and 55 fires were started by locals themselves.
The locals set fire to the forests, as it was rumoured that the government would pay Rs100,000 as a reward to each person who participates in torching forests, said a spokesperson of the forest department, Latif-ur-Rehman.
Rehman said that the department lodged FIRs and at least 21 people have been arrested.
The environment department was unable to find the underlying cause of 143 fires but it said that 22 of them were because of dry and hot weather.
National rainfall for the month of March 2022 was 62% below normal and ranked the 9th driest month since 1961, contributing to harsh environmental conditions, according to Pakistan Meteorological Department (PMD) statistics.
"Natural causes include climate change, lightning, temperature transmission through rocks, drought and heat continue with rising greenhouse gas emissions, we expect more wildfires in years ahead, especially with the fire seasons getting longer," warned the report.
Wildfires that broke out between May 10 to date:
Date Area affected
May 10 Chilghoza forest, Neelan Bhoto, Hally, Barkot and Muslim Abad village
May 17 Chinari Area, the Margalla Hills
May 20 Musakhail, Sherani districts, Koh-e-Sulaimani
May 23 Tirah Valley
May 29 Batarasi Forest, Mansehra
June 4 Anlok Dara Barikot, Charbagh Kot, Kabal Segram and Chaksair, Titwalan, Chak­esar, Shang
June 5 Kotla Village, Whispering Pines Resort, Makhniyal, Neelan Bhoto and Khariyan
June 6 Alpuri
June 7 Ghani Chathra mountain, Swabi
June 9 Bisham Tehsil, Piyaz area and Tarkanu Banda of Puran Tehsil
June 10 Lelai Dandai, Sangota and Amluk Dara