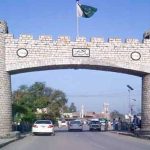 PESHAWAR: Khyber Pakhtunkhwa Governor Shah Farman on Tuesday admitted that awarding a party ticket to his brother in the PK-71 by-polls was a "wrong decision" on his part.
During the October 21 by-polls, the PTI lost the provincial assembly seat to the Awami National Party in Peshawar.
"I admit that I was wrong and in future I will not push for any member of my family to be awarded a party ticket. As an ideological member of the Pakistan Tehreek-i-Insaf, I am against generational politics," the KP governor said.
"I will discourage the introduction of such practices within the party in the future," he added.
Zulfiqar Khan had contested the by-polls on PTI's ticket on the seat vacated by his brother Shah Farman when he became the governor of KP.
Farman belongs to the Badbher village located on the outskirts of the Peshawar city.
He had worked as the minister for public health engineering and minister for information in the previous PTI-led cabinet.