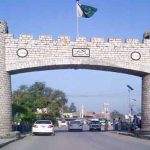 PESHAWAR: Governor Khyber Pakhtunkhwa Iqbal Zafar Jhagra Monday reached Mazar-e-Sharif, Afghanistan for attending Nauroz celebrations.
According to reports, the governor was leading a Pakistani delegation to Afghanistan. The delegation would attend Nauroz celebrations in Mazar-e-Sharif.
Governor Jhagra said that his visit would promote friendship between the people of two countries. Iqbal Zafar Jhagra would be first Pakistani governor to attend Nauroz celebration in Afghanistan.