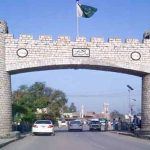 PESHAWAR: Governor Haji Ghulam Ali has opposed action against President Arif Alvi under Article 6 of the constitution, saying that he would suggest election date to Election Commission on March 14.
Talking to newsmen here on Saturday, the Khyber Pakhtunkhwa governor said that he has not violated Article 6, adding that he was working as per the constitution. He said that holding peaceful and fair election was his constitutional responsibility. Holding elections in lawlessness environment would have bad effects, he said, adding that elections in presence of terrorism and lawlessness could have dangerous consequences, he said. He said that he would inform the Election Commission about the stance of the caretaker government. The Election Commission knew about the security situation in the province, , he said.
He admitted that he failed to bring Election Commission of Pakistan, president and governor together for consensus date of elections. He said that he has not received any legal notice of Qazi Mohammad Anwar.
Haji Ghulam Ali said that Imran Khan was spreading anarchy in the country. The youth were being handed over sticks to fight against the country's forces. He said that Imran Khan has experience of 26 years while he has 40 years of experience in politics. Imran Khan has opted for dangerous route, which could damage the country, he added.