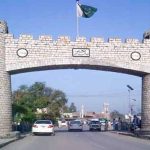 PESHAWAR: The Khyber Pakhtunkhwa Governor Iqbal Zafar Jhagra on Tuesday took strong notice of the unscheduled and prolonged electricity outages in the province and directed the PESCO Chief to avoid prolong load-shedding
Iqbal Zafar Jhagra summoned the PESCO chief to Governor House and reprimanded him over the unscheduled power outages.
According to statement issued from Governor House read that Iqbal Zafar Jhagra told PESCO chief that unannounced load-shedding would not be tolerated at any cost.
He directed him to avoid prolong load-shedding. He said action would be taken against those officers who were found involved in disconnecting power for long hours.
Governor also asked people to pay electricity bills to avoid massive load-shedding.