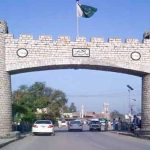 PESHAWAR: Khyber Pakhtunkhwa (KP) Governor Shah Farman has declined the reports of conflict between him and Chief Minister (CM) Mehmood Khan, in an explanatory statement after the CM transferred of Inspector General of Police (IGP) Salahuddin Khan and Chief Secretary of the province.
Farman wanted to take authoritative control of three government-run departments of the tribal areas.
However, Farman later refuted such reports and maintained that there were no conflicts at all.
"CM reserves authority to transfer any official. We are on one page for the development and prosperity of the tribal areas," he said, adding that the CM had exercised his power to transfer IGP and chief secretary.
The primary rift between them emerged after Farman sought authoritative control over the departments of communications, municipalities and the provincial interior.
According to reports, the chief minister, IGP and chief secretary had sought to merge Levies and Khasadar force into police department of the province.
However, the governor tried to resist the move.
Meanwhile, the governor has established an advisory board for enhancing and implementing governance in the tribal areas, and to maintain its traditions.
According to reports, some ministers have opposed granting such powers to the governor.