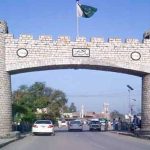 PESHAWAR: A meeting of the Apex Committee Khyber Pakhtunkhwa was held in Peshawar on Tuesday with Governor Shah Farman in the chair.
The meeting reviewed development projects in tribal districts.
Matters relating to law and order situation in the province with special reference to tribal districts also came under discussion during the meeting.
It was also attended by Chief Minister and Corps Commander Peshawar Lt. Gen. Shaheen Mazhar Mahmood.