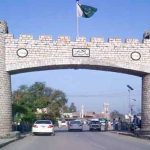 PESHAWAR: Khyber Pakhtunkhwa Governor Shah Farman says two point five billion rupees have been allocated in the current budget for the development of former FR Peshawar areas.
Talking to a delegation of ex-FR Peshawar at Governor House Peshawar, he said peculiar customs and traditions of tribal people are being protected in amending laws for the tribal districts.
The Governor was apprised about different educational scholarships being given to the tribal students.
Chief Minister Mahmood Khan who was also present on the occasion, said special focus is being given to remove the deprivations of tribal people.
He said steps will be taken to provide gas to these areas besides provision of Sehat Insaf Cards to all the tribal families.