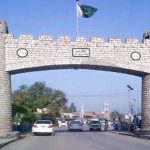 PESHAWAR: Adviser to Chief Minister Khyber Pakhtunkhwa on Information Ajmal Wazir Friday announced that the families of doctors and medical staff – who die from the coronavirus pandemic – will receive a package of Rs 7 million.
The adviser lauded the services of the doctors and other medical staff and said they are fighting against the epidemic on frontline.
Ajmal Wazir said in his statement that 146 persons have lost their lives to the epidemic while 2,627 cases have been reported in the province.
He told that 654 coronavirus patients have recovered in KP where 330 quarantine centers have been formed. KP Chief Minister Mahmood Khan is continuously monitoring the situation, he added.
Ajmal Wazir stressed that we have to fight against poverty along with the pandemic and the provincial regime is considering to provide relaxation in lockdown, however, those shops will remain sealed who do not follow the SOPs.