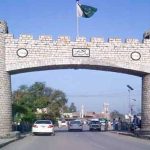 PESHAWAR: The Khyber Pakhtunkhwa (KP) government has approved 24 important development projects for various districts which will cost Rs 90 billion.
According to details, Rs 70 billion have been fixed for the Swat Motorway which will be extended to Fateh Pur. Kohat will receive more funds, Rs 15 billion, as compared to other districts over gas royalty.
Rs 15 billion will be spent on different projects while seven projects have been forwarded to the federal government for final approval.
Also read: PM Imran, CM Mahmood discuss matters pertaining to Khyber Pakhtunkhwa
The development projects also include construction of roads in tribal districts. Other undertakings comprise development of schools, hospitals, rescue services and energy sector.
Also read: KP Govt to construct economic zones in DI Khan and Mansehra: Yousafzai
The Khyber Pakhtunkhwa Information Minister Shaukat Yousafzai has said that CPEC is a game changer for the entire region.
Shaukat Yousafzai said Rashakai Economic Zone will uplift socio-economic condition of the province besides creating job opportunities.
He said the government will also construct economic zones in Dera Ismail Khan and Mansehra districts.
Earlier, Prime Minister Imran Khan had rejected the impression that the China-Pakistan Economic Corridor (CPEC) has made Pakistan indebted to China.
In an interview with CNBC, the prime minister revealed that the Chinese loans account for about five to six percent of Pakistan's total loan portfolio. He said China had helped Pakistan in most difficult times by making investments and "we are grateful to them."
Responding to a question, PM Imran Khan said the CPEC also envisages cooperation in different sectors including technology transfer in the agriculture sector.