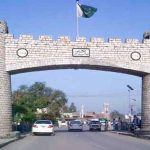 PESHAWAR: Khyber Pakhtunkhwa Government principally approved a special security force i.e. CPEC Security Force for the security of the CPEC routes, projects, Chinese investments and the Chinese Nationals.
According statement issued by Home and Tribal Affairs Department, the Provincial Government is taking keen interest in CPEC projects and will ensure providing better security to all the investors in the best interest of Khyber Pakhtunkhwa province.
The Home & Tribal Affairs Department and Khyber Pakhtunkhwa Police has completed their consultations on the formation and features of CPEC Security Force. For the purposes, the government will purchase equipment, weapons, ammunitions, vehicles etc of worth Rs. 1.2 billion.
According to the Home & Tribal Affairs Department, the special security force will comprises of 4200 security personnel at an initial stage and depute them from different sources i.e. Police, different Security Forces and on Contract basis. This force will have its own chain of command and gradually increase will be made in its formation. A Special Cell in Home & Tribal Affairs Department will also be established to daily monitor the activities related to CPEC Security, International Investors and investments.
The CPEC Security Force will exist in all that divisions of the province where the projects related to CPEC are under operations.