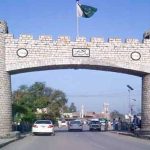 PESHAWAR: The Khyber Pakhtunkhwa government here on Sunday announced that it would convene an all-party conference (APC) on June 9 to discuss issues related to local government elections.
Khyber Pakhtunkhwa Information Minister Mushtaq Ghani said that APC would mull over allegations of rigging. "We will invite all parliamentary parties to the proposed APC," Ghani said.
Reacting to the development, senior ANP leader Mian Iftikhar Hussain said that his party did not receive any invitation about the APC.
"We will consider whether or not to attend the conference only after receiving the invitation," Hussain said.
He said that ANP leadership would take a final decision after consultations.
To a question, he said that opposition parties would observe a complete strike on June 10.
JI leader Professor Ibrahim said that there was no use of calling the APC after the issuance of notification of local government elections.
APC was an attempt to placate the opposition parties.