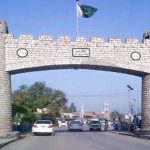 PESHAWAR: The Khyber Pakhtunkhwa Government has decided to send the alleged audio tape of Ajmal Wazir for forensic test and the matter will be referred to the Federal Investigation Agency (FIA) or Anti-Corruption for investigation.
In this regard, a meeting was held under the chairmanship of Provincial Chief Secretary Kazim Niaz. The Chief Secretary will prepare and send a summary to the Chief Minister (CM) today and the summary will decide an investigation agency.
According to Kamran Bangash, provincial special assistant local government and information adviser, the chief secretary is not authorized to inquire against any cabinet member. Chief Secretary will prepare a summary and send it to the Chief Minister for approval. The CM will also announce the formation of a committee today to look into the matter.
Ajmal Wazir was recently removed from the post of Khyber Pakhtunkhwa Information Adviser on charges of taking commission in advertisements.
Special Assistant Kamran Bangash has now been given the additional responsibility of Information Adviser.
On Saturday the recording of an alleged audio call between former Adviser to Khyber Pakhtunkhwa Chief Minister on Information and Public Relations Ajmal Wazir and an advertisement company representative surfaced and had been obtained by Dunya News.
According to details, Ajmal Wazir and advertisement company agent can be heard discussing waiver in GST and other taxes. The representative said to Ajmal Wazir that he will give him 10 percent [commission] instead of two if GST is not deducted.
KP Chief Minister Mahmood Khan has taken notice of the alleged audio call and ordered to launch inquiry into the matter.
Ajmal Wazir was removed from his post following allegations of receiving commission through advertisements. The decision was taken by Mahmood Khan and a notification has been issued in this regard.
Adviser to KP CM on Local Bodies and Rural Development Kamran Bangash has been given the portfolio of Information and Public Relations Adviser.
Let it be known that Ajmal Wazir was appointed on March 3, 2020 after removal of the then Information Minister Shaukat Yousafzai.