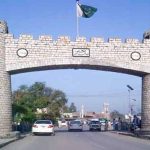 PESHAWAR: The Government of Khyber Pakhtunkhwa has decided to use Computerized National Identity Card (CNIC) as a Sehat Sahulat Card.
The decision was taken during a meeting in Peshawar on Tuesday. Chief Minister Mahmood Khan presided.
Speaking on the occasion, he said that every family will get free treatment of more than seven thousand rupees annually.
He said provision of free medical treatment to the public is a historic step towards establishment of a true welfare state.