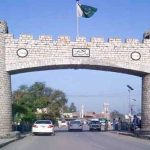 PESHAWAR: The Khyber Pakhtunkhwa (KP) government has declared business of giving loan with interest illegal.
Those found involved charging interest on private loan could be sent to jail for up to five years plus five lac rupees fine will also be charged. A law in this regard has been passed in KP Assembly on Monday.
Residents of Peshawar have welcomed this move to declare business of interest as illegal. They said that interest had ruined scores of families as people were unable to return money loan taken on interest.
Special Assistant to Chief Minister KP on Information and Higher Education Mushtaq Ahmad Ghani said the system of interest was a trap for people.
"People used to buy cars or other things on loan and loan money keeps multiplying overburdening people," he said.
Nobody will now be liable to pay any interest on loan money.