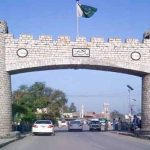 ISLAMABAD: Qaumi Watan Party (QWP) Aftab Ahmed Khan Sherpao on Monday criticized performance of Khyber government for its failure to properly handle dengue fever problem in Peshawar and alleged that the Health Department has completely failed.
While addressing a news conference in Islamabad, Aftab Sherpao alleged that improvement in police and education departments are only cosmetic adding that in reality performance of these departments have further deteriorated. He demanded development projects in different areas on the basis of resources.
Aftab Sherpao said that the provincial government did not paid any heed to the problems of Hazara Division.