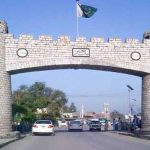 PESHAWAR: The Khyber Pakhtunkhwa government has given Rs 0.5 million to Famous Pashto artist Hidayat Khan for medical treatment as he is suffering from short term memory lost.
The Advisor to Chief Minister Khyber Pakhtunkhwa on Sports, Tourism and Culture Amjid Afridi, accompanied by Deputy Parliamentary leader of PTI Shaukat Yousafzai visited to ailing artist home at Kakshal area, Peshawar and gave Rs.0.5 Million Cheque to him.
On this occasion, Amjad Afridi, said that Culture Directorate will bear all the cost of his medical treatment. "We will support him financially more if he needed", said Afridi. He prayed for the early recovery of the legendary singer.