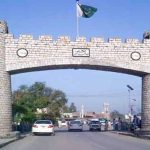 TANK: The Government of Khyber Pakhtunkhwa has shrink the volume of Southern Areas Development Program (SADP) for Tank and Dera Ismail Khan districts as major portion of the funds were utilized in Lakki Marwat district by the PTI Government which held by the political circle as pre-poll rigging.
The sources in the government confided to this scribe said that the Khyber Pakhtunkhwa government in 2012 in collaboration with World Bank has inked Rs.5 billion SADP project to put the under privileged southern parts of the province on the road of socio-economic progress.
Rs.5 billion were allocated for Tank, Dera Ismail Khan and Lakki Marwat districts under the SADP.
The multi-purpose community project was aimed at initiating uplift schemes in public health, road sectors and social sectors to enhance the living standard of the masses and bring prosperity in their respective areas.
The SADP initiative was mismanaged when some senior officials of the project utilized 67.53 percent fund of the project in Lakki Marwat district by executing as many as 43 schemes in different social sectors worth 200 million.
The Tank and Dera Ismail Khan districts could get 18.74 and 13.72 percent fund of the total community fund.
Social circles of the area are of the opinion that illegal shifting of funds to other districts was nothing but a pre-poll rigging on the part of PTI government which will push the deserving areas to a sense of deprivation.