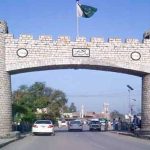 PESHAWAR: The rise in the number of coronavirus patients and fatalities has prompted the Khyber Pakhtunkhwa government to increase the number of health facilities across the province to cope with the coronavirus pandemic.
Presently, 10 major hospitals of KP are treating coronavirus patients. These hospitals have dedicated 452 beds of the intensive care units (ICUs) and high dependency units (HDUs) for coronavirus patients. However, the available space is shrinking fast due to increasing number of coronavirus patients. The wards at hospitals have been kept at standby for converting them into ICUs for corona patients if needed.
The 110 other small and large hospitals in the province have established isolation wards comprising 856 beds. KP has got the capability of testing 2,860 corona patients daily. So far, 11,890 patients have tested positive in KP, while 521 have lost their lives. The death ratio in KP is about 5 percent, which is comparatively higher than other provinces. However, beds and ventilators are available for patients.
Official documents say 140 beds are available for ICU for COVID-19 patients in which 99 patients are admitted, while 41 beds are still unoccupied. Similarly, 312 beds are available in HDUs in which 210 patients are admitted and 102 more patients can be accommodated.
KP Health Minister Taimur Jhagra said the KP government constantly changes its plan to deal with the emergency according to emerging situations. He said that the most serious patients are shifted to ICU, relatively less serious patients are kept at HDU and routine patients are kept at normal wards. He said the situation in KP is under control, but people will have to observe precaution.