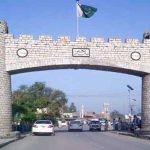 PESHAWAR: Chief Minister Khyber Pakhtunkhwa Pervez Khattak has said that the PTI government has done record achievements in all spheres and was near to get 100 percent development targets in multiple departments.
The achievements included construction of hundred sports grounds including an additional thirty grounds in final phase of completion. These targets were achieved within a short span of four years of his government, he added.
He was addressing the concluding ceremony of Zalmi Schools League at Hayatabad Sports Complex Peshawar.
The tourney was the first of his kind and would be the feature of future sporting activities between the education and sports departments of provincial government and Peshawar Zalmi Foundation.
The final meet was between Malakand and Peshawar Divisions that was won by Peshawar division with the wide margin.
Provincial Minister for Education Muhammad Atif, Sports Minister Mehmood Khan, Advisor to Chief Minister for Population Planning Shakeel Khan, MPA Arbab Jehandad and President of Peshawar Zalmi Foundation Zaheer Abbas who was a cricket legend participated.
The Chief Minister said his government increased the outdoor and indoor sports facilities for the youth to have efficient recreation facilities in addition to health and education that was a part of the youth programs initiated by his government.
He said his government was spending billions on the upgradation of Arbab Niaz Cricket Stadium and Qayum Sports Complex in addition to the allied sporting facilities. Pervez Khattak recalled his government would complete at least one international standard stadium at divisional level having all sports' grounds and allied facilities.
The basic aim of increased sports' facility was to provide maximum facilities to the youth integrating them to the national stream. He called upon the youth to take active part in sports in addition to their educational activities.
To a question, the Chief Minister said that the provincial government would succeed in conducting different tournaments at national and international level in Peshawar. Peace has returned to the province and now the atmosphere is suitable for the promotion of sports in the province.
He congratulated the winning teams and players and appreciated the education and sports departments for holding a quality tournament in Peshawar in collaboration with the Peshawar Zalmi Foundation.