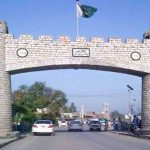 PESHAWAR: The Khyber Pakhtunkhwa government has initiated expansion of BS programme in all the colleges of the province.
A spokesman of Higher Education Department said that after commencing BS programmes more classrooms and teaching staff are needed.
He said about three billion rupees have been earmarked for provision of missing facilities of infrastructure for the programme in the colleges.
The spokesman said the conventional two years B.A/B.Sc programme is scheduled to be closed in all the colleges of the province by the end of this year.